Semi-Transparent Exterior Stain + Sealer
Product
Colors
Formula Guides
How To
Product Information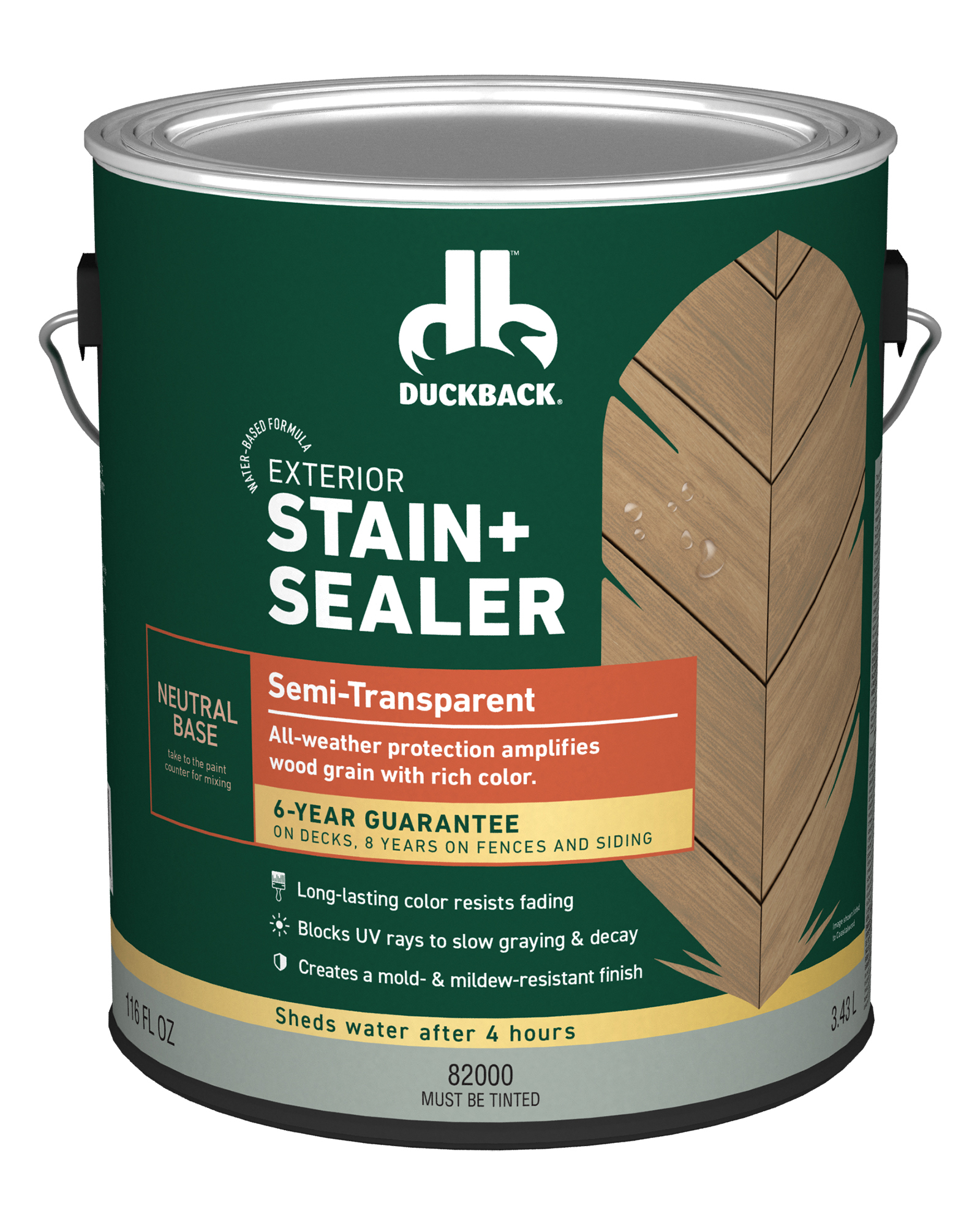 Duckback Water-Based Exterior Semi-Transparent Stain+Sealer balances beauty and durability.  The semi-transparent finish reveals some of the wood grain while providing rich, long lasting color and all-weather protection.
Performance
Sheds water after just 4 hours
Long-lasting color resists fading
Blocks UV rays to slow graying and decay
Features
Creates a mold-and-mildew resistant finish
Available in 60 style and classic colors
Low temperature application down to 35 degrees F
6 year protection on decks, 8 years on fences and siding
Category
Semi-Transparent
Colors
Semi-Transparent
Important Note: Computer screens and printers vary in how colors are displayed, so the samples shown on this page may vary slightly in color, sheen or finish from actual product and individual results. Always test a small area and let coating dry to ensure color satisfaction before coating entire area.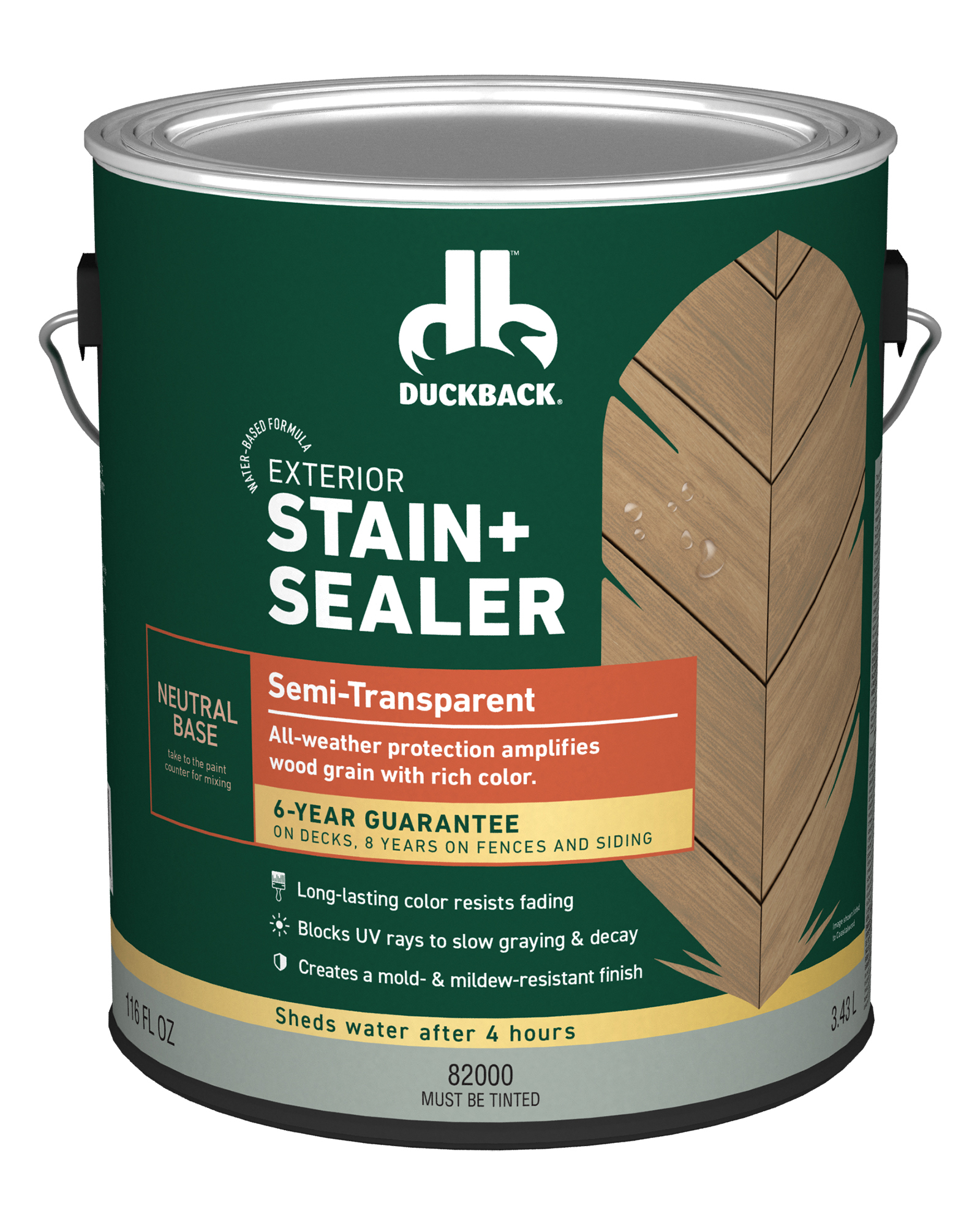 Formula Guides
Formula Guides
FORMULA GUIDES FOR USE WITH RETAILER'S COLORANT SYSTEM
DUCKBACK is not affiliated with, sponsored by or associated with the third party colorant systems noted below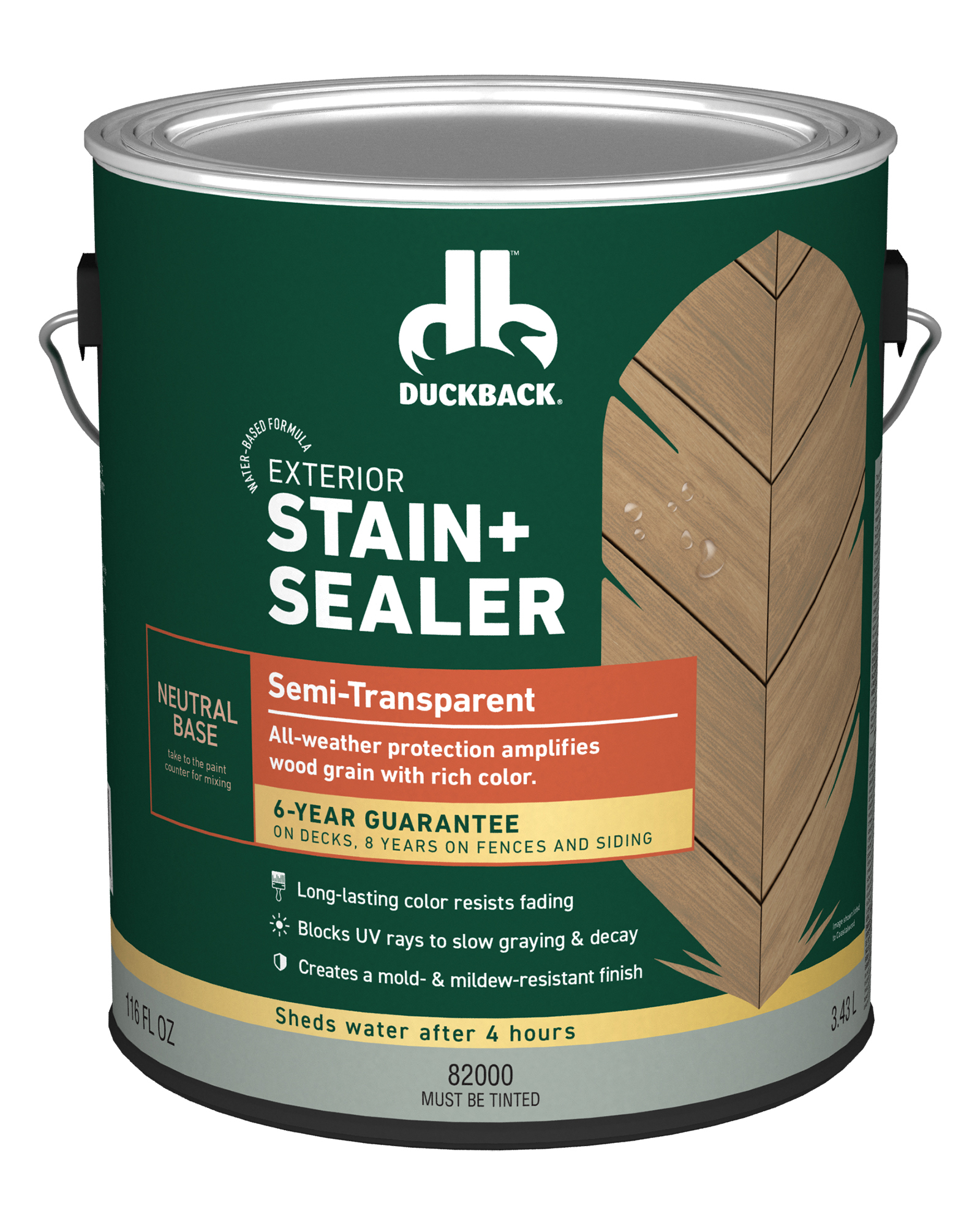 How To
USES:
New or reconditioned wood decks, porches, outdoor furniture, steps, railings, fences and siding.
SURFACE PREPARATION:
In order to be effective, a stain must be able to penetrate. Be sure surface is free of all dirt, mildew stains, loose wood fibers, peeling coatings and other foreign matter.  Surfaces must be sound and may be dry or damp. If damp, the wood should be free of puddles and not feel wet. Prepare previously stained or weathered surfaces by cleaning with an exterior wood cleaner. On untreated weathered surfaces, it is best to pressure wash, but at minimum, scrubbing with a stiff bristle brush and wood brightener, then rinsing with a garden hose should be done to completely remove all loose or gray wood fibers. If removing additional loose wood fibers is necessary, sanding with 60 or 80 grit paper may be required.
WARNING! 
Removal of old paint by sanding, scraping or other means may generate dust or fumes that contain lead. Exposure to lead dust or fumes may cause brain damage or other adverse health effects, especially in children or pregnant women. Controlling exposure to lead or other hazardous substances requires the use of proper protective equipment, such as a properly fitted respirator (NIOSH approved) and proper containment and cleanup. For more information, call the National Lead Information Center at 1-800-424-LEAD (in US) or contact your local health authority.
PRODUCT PREPARATION:
Product should be shaken or stirred before and during application. When using more than one container of product, intermix all containers together and stir well to ensure color consistency.
THINNING:
Do not thin.
APPLICATION METHODS:
Product may be brushed, rolled or sprayed using nylon or polyester brushes, high-quality roller, stain pad or professional spray equipment. If sprayed, use the lowest possible pressure needed for a reasonable spray pattern. Back-brushing is recommended when rolling or spraying, working the product smoothly and evenly into the wood.  This will decrease the possibility of pools or puddles on the surface and ensure a properly penetrated finish.
APPLICATION:
The appearance of the finish will vary depending on the porosity and color of the wood surface.  Always test a small area first for color satisfaction before coating entire project.  Apply in small sections at a time (1-3 boards), start from one edge of the board and work end-to end.  Utilize natural break points during application to avoid any lap marks.
NUMBER OF COATS:
One-coat application is recommended.  If a second coat is desired, allow 2-4 hours dry time before applying.
APPLICATION TEMPERATURE:
35° F.–95° F. Do not apply if wood surface is hot to touch or if air or surface temperature is below 35°F or if temperature is expected to fall below 35°F for 24 hours after application.  Can be applied to both damp and dry wood. Do not apply if rain is expected within 4 hours after application.
DRY TIME @ 77 F:
4 hours to touch, 24 hours for return to service; depending on weather conditions.
SPREAD RATE:
On smooth surfaces, approximately 300-400 sq. ft. per gallon. On rough surfaces, 150-250 sq. ft. per gallon
.
CLEAN UP:
Clean up with warm, soapy water. Do not freeze. Keep container closed when not in use. Do not transfer contents to other containers for storage or disposal. In case of spills, absorb with inert material such as sand or kitty litter. Dispose of empty container or unused portion in accordance with local, state and federal regulations.